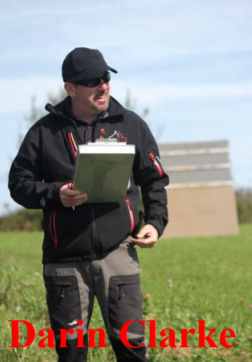 I have been involved in the sport for over 25 years.
I started as a handler training my own puppy which I went to the Worlds with. Over the past 20 years, I have been to almost every Canadian Championship and Sieger Show as a handler, helper, helper director, coach or President.
I have trained four (4) dogs from puppy to IGP 3, competing at the Canadian Championships and making a World Team with all of them. I have trained several other dogs to a variety of titles.
I began working as a training and trial helper very early on which allowed me to be a helper at many club and regional trials and a helper twice for the Canadian Championships.
I was helper director for many years implementing the helper program which we currently use.
I have been training director and President at Fundy Schutzhund Club, East Regional Chairperson, GSSCC Director and I am currently President of the GSSCC.
My wife Mia and I bred German Shepherd Dogs since 2007 under the name Kleinenberg Kennels and have gone to the Canadian Championships and qualified for Team Canada with our own handler bred and trained dogs.
I started my Apprenticeship for a GSSCC Judge in 2017 and finished all the requirements in a year and became GSSCC Performance Judge # 12.
I really enjoy being a judge and hope my critiques can help every handler reach their goals.